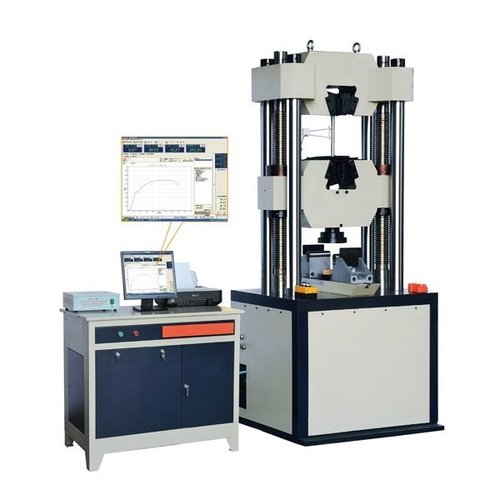 Servo Universal Testing Machine
Product Description
Servo Universal Testing Machine
Model No - SERVO UTM
Model No. SERVO BASE
Product Description
Features:


Complete computer controlled: The whole measuring and controlling system adopts specific PC control card used for testing machines, realizing the data zero and plus adjustment, which has very high reliability.
Supporting multi-transducers
Realizing the database management of the test data which are stored according to the standard format; Facilitating other software to analyze and transfer.
Perfect programming by auto program control, every control mode can smoothly shift to another one. Fulfilling the test requirement of all kinds of materials with every test standard home and abroad.
Control software has the auto-adjusting function of test hardness, which assures that the system works with every kind of specimen hardness.
Perfect graphic function realizing the arbitrarily magnifying, decreasing, equaling, adding, indicative display and print of all kinds of test curves, the test point searching as well as the simultaneous display and print of several kinds of test curves. Data processing supposes self-disposing and input disposing of graphic human computerinteraction, which facilitates the check and contrast of the test result.
The user can self -define the output of the test report, which makes the report format have very high flexibility.
Modularization design facilitates the software upgrading, function spreading as well as the second development.
All the crucial parts were processed by our owen processing center which was imported from Japan to guarantee the high accuracy of machine.


Specification

Capacity(kN)

600/500

300

200

100

50

30/20/10

5/2/1

Load frame Stiffness (kN/mm)

1000

600

400

300

250

80

30

Load range

0.4%-100% of the max load

2%-100%

Accuracy of test load

±0.5%

Test Space

Single / Double test space

Single

Precision of Ball Screws

16m/300mm E level

Accuracy of deformation

<±1% within the 2%-100% full range of the extensometer (accuracy level±0.5%)

Crosshead stroke accuracy

0.001mm

Accuracy of indication value of test load

<±1% (accuracy level±0.5%)

Resolution of load

1/200000 of the max load force

Scope of deformation measure
(normal extensometer)

2%-100% FN

Accuracy Indication of deformation (normal extensometer)

within ±1% of indication value

Scope of deformation measure
(High deformation extensometer)

10mm-800mm

Accuracy Indication of deformation
(High deformation extensometer)

within the ±1% of the value

Resolution of crosshead stroke

0.001mm

Adjustment scope of test speed under Load control mode

0.005-5%FN/S

Accuracy of test speed under Load control mode

Test Speed<0.05%FN/s,within the ±2% of the preset value; Test Speed 0.05%FN/s, within the ±0.5% of the preset value

Adjustment Scope of deformation rate

0.005-5%FN/S

Accuracy of deformation rate

Test Speed<0.05%FN/s,within the ±2% of the preset value, while Test Speed 0.05%FN/s,within the ±0.5% of the preset value

Adjustment scope of stroke speed

0.005mm/min-250mm/min

0.005mm/min-500mm/min




Accuracy of stroke speed

Test speed<0.01mm/min, within the ±1.0% of preset value, while test speed 0.01mm/min, within the ±2% of the preset value

Scope of the consistent load deformation and displacement control

0.5%-100%FN/s

Accuracy of the consistent load
deformation and displacement control

preset value 10%FN, within the ±0.1% of preset value;
preset value<10%FN, within the ±1% of preset value

Length of the test space(mm)

600

600

600

600

600

800

700

Width of the test space(mm)

650

600

600

600

575

370

400

Dimension(mm)

1150x770x2817

1100x770x2817

1100x770x2685

1010x750x2225

945x654x2266

686x525x1880

610x480x1285

Weight(kg)

2800

1560

1560

1100

700

250

100

Power Supply

AC380v ±10%, 50/60Hz, Three-phase Five-wire

AC220v±10%, 50/60Hz

Power

5

3

1.5

0.75

0.4

Type of machine

Floor type

Table type
Contact Us
Wz-43, Chaukhandi Extension, Tilak Nagar, New Delhi Delhi India +918037401035
Phone :+918037401035